Leadership training is a bit of a surreal topic among people who haven't achieved a high level of influence in their career, and that's because of one key misunderstanding…
That people who lead are born with this ability.
Or that they are "naturals" at it.
In reality, leaders are people who invest a lot of time and effort taking on some degree of risk, seizing opportunities, and finding ways to manage them effectively.
Leaders are just as prone to making mistakes as anybody else. However, the big difference between them and a regular employee is that they're used to making mistakes.
And while they do have more tools at their disposal, it doesn't mean that they're not willing to ask for help. In fact, leaders will often resort to leadership training programs for guidance.
In this article, I'm going to present the most relevant leadership topics to include in your training program and why they matter to our current environment.
(2020 and beyond!)
[emailoctopus form_id=1]
Building a Leadership Training Program in 2020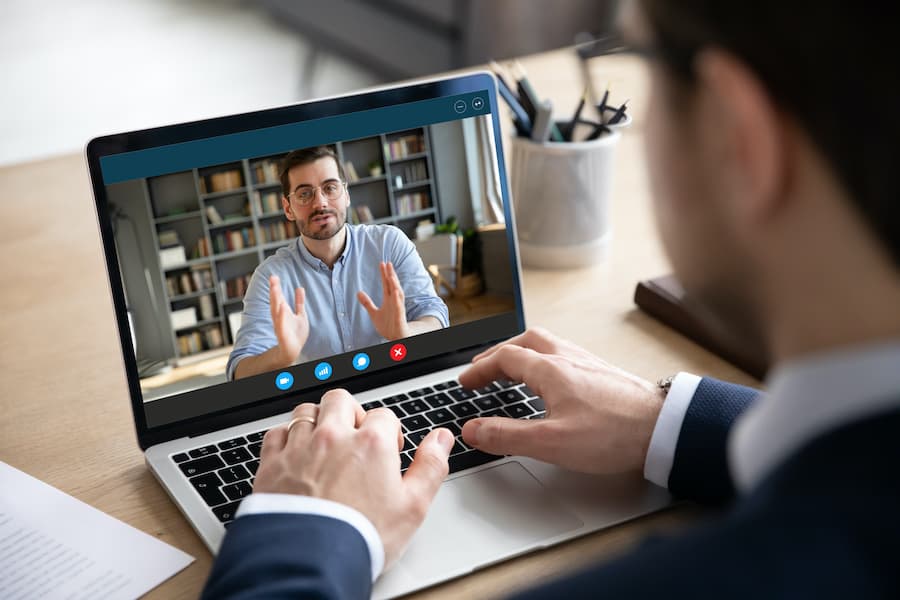 Building a leadership development program is hard in its own right. But when you consider all the additional challenges presented to us during 2020, it becomes a bit of a nightmare.
To start things off on the right note, ask yourself these two questions:
"What would I do differently compared to six months ago?"
"What is most relevant to leaders right now?"
Leadership is ever-changing.
For many people at the top, it's an uphill battle.
As an educational consultant or business coach, you want to get to the root cause of this battle and deconstruct it to pave their way forward.
A great way to do this is to help leaders engage in a more agile approach where constant feedback and iterative improvements are most effective.
Here's how to move towards this direction:
Be ready to listen. This is a key component of leadership coaching and it requires undivided attention to the needs of the person you're working with. Always put yourself in their shoes and ask questions that bring them to open up their views and how they react to certain situations. Ask them about their daily activities, relationship with their team members, and overall satisfaction in their working environment.
Help your client find trusted guidance in your services. As a consultant, you want your client to feel a sense of guidance that they couldn't get any other way, and that requires a bit of hand-holding whenever possible. Never wait for them to send an email your way or ask for how things are going… Always be proactive in giving your client a next step either through your own research or professional experience.
Offer concise, bite-sized learning paths. With so many things happening in the business world, the last thing your client needs is yet another time-hungry course or bootcamp that they have to go through and learn to apply themselves. What they really want is someone to provide them with bite-sized lessons as they go, and you're the one who should offer this experience by keeping up with where they stand.
Go out of your way to provide swift communication. Technology gives us the opportunity to send out messages every other minute of the day so why are leaders left hanging for answers when they don't even have time to think? Always find ways to automate some of your "boring" tasks so that you can focus on answering the emails that truly matter. Overcommunication is better than no communication at all.
Find ways to build excitement into the learning process. In many ways, business leaders are just like any other worker out there: eager to complete all their tasks in a timely manner and be done for the day. This is no different than your average employee. To tackle this, you should always build excitement into your programs by personally helping the client have fun in the process and providing a clear target to hit.
With these tips in mind, you can start fleshing out the different components of your training program and help leaders based on the fundamentals of agile leadership.
The Components of a Modern Leadership Training Program
Modern leadership is all about serving and being a part of your team rather than giving orders and waiting for things to happen.
This is also referred to as servant leadership. Robert K. Greenleaf first described this in his 1970 book The Servant as Leader:
The servant leader is servant first… It begins with the natural feeling that one wants to serve, to serve first. Then conscious choice brings one to aspire to lead. That person is sharply different from one who is leader first, perhaps because of the need to assuage an unusual power drive or to acquire material possessions…
The concept of servant leadership is complementary to that of agile leadership as they both center their philosophy around serving (either a cause or the client themselves).
As a leadership coach, it's important that you take note of these two modern leadership practices to build an effective development program around them.
Leadership Development in 2020: The Essentials
Gone are the days of using sheer power to drive performance and measuring success through direct output. In 2020, leadership requires training grounded in emotional intelligence.
A leadership study clearly showcased that:
… leaders who experienced the highest levels of success in change implementation [had a] minimal presence of leader-centric behaviors.
This means that leaders who serve first have a higher chance of implementing successful strategies compared to leaders who push their employees to do more.
A visualization of the two is shown below: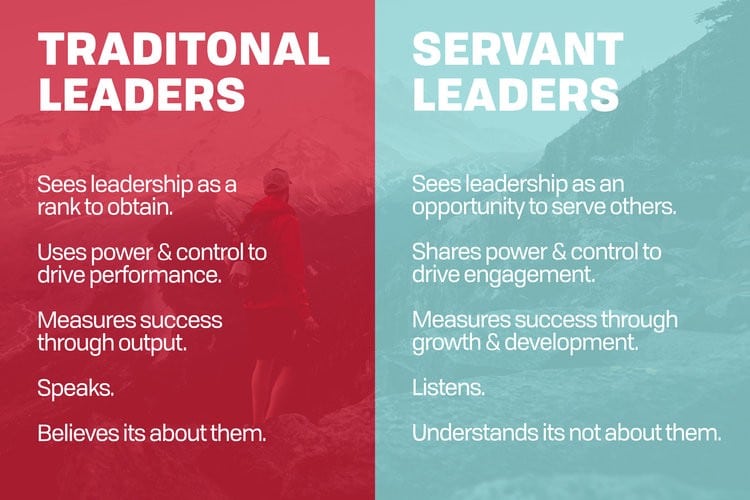 To create a training program that adapts to the needs of modern leaders, it's crucial that you consider the five points shown to the right:
Leadership as a way of serving others
Sharing power and control to drive engagement
Measuring success through growth and development
Listening and empathy skills
Looking at the big picture
These five bullet points represent the essential components of a modern leadership approach and they are the pillars to an effective leadership training program.
Leadership Development in 2020: The Different Approaches
Development programs are evolving by the day. While the essentials are there to give us a sense of direction, there are different styles in which they can be applied.
Some of these approaches involve:
Short seminars where experienced leaders share their stories and experiences in closed groups, usually in a conference environment. This is mostly virtual today.
Expert-led day workshops, usually meant to teach a specific skill or concept in a group environment. This is currently on halt due to the coronavirus situation.
Week-long bootcamps which are meant to train upcoming leaders on a variety of topics in servant and agile leadership, including some highlighted in the section below.
On-ground training where leaders are paired with a coach for various months with a specific goal to create the right environment for their team to succeed.
… and more.
There's no shortage of innovative solutions to tackling the problem of leadership coaching but there is often a lack of substance in many of these programs.
To avoid this issue and design a complete training program for upcoming or existing leaders, you should work on at least three to five topics covered in the section below.
7 Topics to Consider for Your Training Program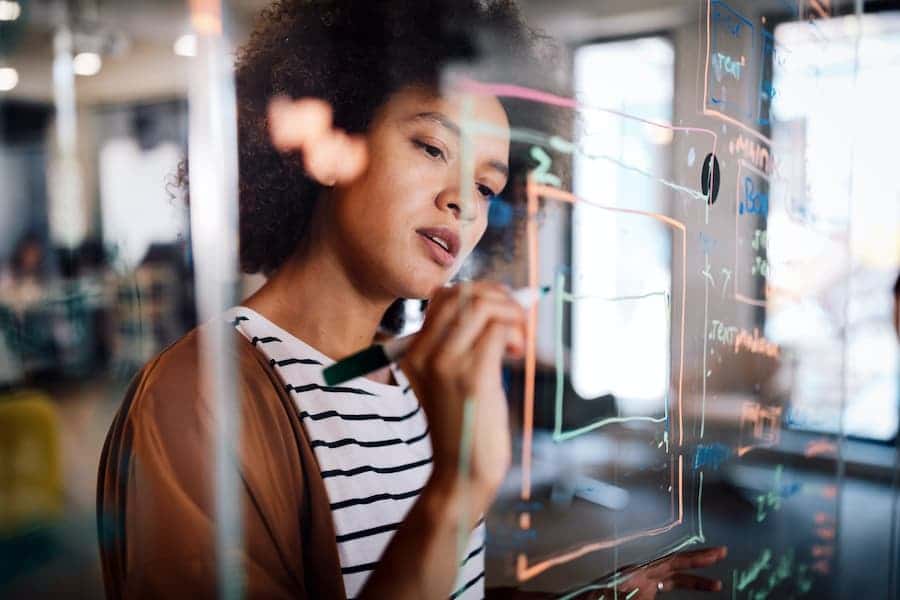 Think about a training program as a way to accelerate your client's growth within their organization via strategic, bite-sized lessons that are appropriate to their situation.
The learning process has to flow naturally…
You can't force it upon them.
One of the issues with existing leadership programs is that they take you out of the zone, out of the environment you're used to working in.
This is a no go in change leadership.
Don't get me wrong, workshops and bootcamps are great.
But they need to be hosted internally.
It's one thing to give generic advice on a specific leadership topic. It's another to listen and understand your client's needs so that you can craft a plan that's specific to them.
A big issue with current leadership programs is that they take you out of the zone for several weeks. This is a no go in change leadership. Bootcamps are great, but they need to be hosted internally.
Click To Tweet
When validating early stage ideas for your development plan, you want to move towards a flexible framework that adapts to your target audience, not the other way around.
In this case, brainstorming different solutions is as relevant as improving them bit-by-bit with direct feedback from your client.
Remember, there's no one-size-fits-all solution here. 
Once you've identified a set of rules that is consistent with your target audience's vision of leadership, you can start fleshing out the content of your development program.
Here are seven topics to draw inspiration from…
(In order of relevance!)
Topic 1: Strategic Thinking
A great leader is a great thinker. And a great thinker is someone who's strategic about their thinking. Everything starts from an idea but it's the combination of structured ideas that creates value, not singular ideas placed in a vacuum. Strategic thinking is all about generating unique business insights intended to create competitive advantage for an organization. Now that is something that every leader should know how to do.
Topic 2: Decision-Making & Prioritization
When you have a bunch of ideas put together in a nice framework, what do you do with them? You act upon them, right? But without a proper decision-making process, how are you supposed to know which ideas to prioritize? Great leaders should learn how to do this time and time again. Their prioritization skills should come both from first-hand experience and external insights from industry experts (i.e. you).
Topic 3: Change Management
Leaders should always be aware of change. When they put ideas together in a framework, change happens. When they make a decision, change happens. And when they act upon their decision through prioritization, change has to be managed. That's the premise behind change management, and it's never been more relevant than today. We live in a world where change is prevalent so don't skip this.
Topic 4: Interpersonal Relationships
You can't have a successful shift in your organizational structure if you don't care about the people who will make it happen. That's where the team members come in. Great leaders should hone their interpersonal skills to foster working relationships based on respect, trust, and a drive to do better. This results in happier employees who see their leader as more of a mentor than a boss, delivering real culture impact.
Topic 5: Motivation & Engagement
You can never beat a leader who can motivate and engage their employees with passion, excitement and, most importantly, a story to tell. Getting people to do things for you is the "easy" part of leadership. The hard part? Making them feel like they're part of something bigger than themselves, something that can grow because of them. Adding motivational skills to your curriculum will be a huge bonus.
Topic 6: Conflict Resolution
You're not running a business unless something wrong happens. This is to be expected and to be planned for. Leadership isn't just about the "good" parts of business… It's also about showing that you can handle a few hits, and do it well too. That's why conflict resolution is such a big topic in leadership training as team members will almost inevitably pick fights with each other working their way up the ladder.
Topic 7: Accountability
To close the circle, every leader should be made accountable for their decisions. That's why implementing a sound decision-making process is so important to the success of their organization (see topic 2). Those decisions hold real weight for the growth of the company and leaders should be aware of the risks involved. In a similar way, employees should be held accountable for their actions.
---
Implementing these topics into your training curriculum will help you offer effective, future-proof development practices to leaders who deeply care about growth.
Training Leadership During a Crisis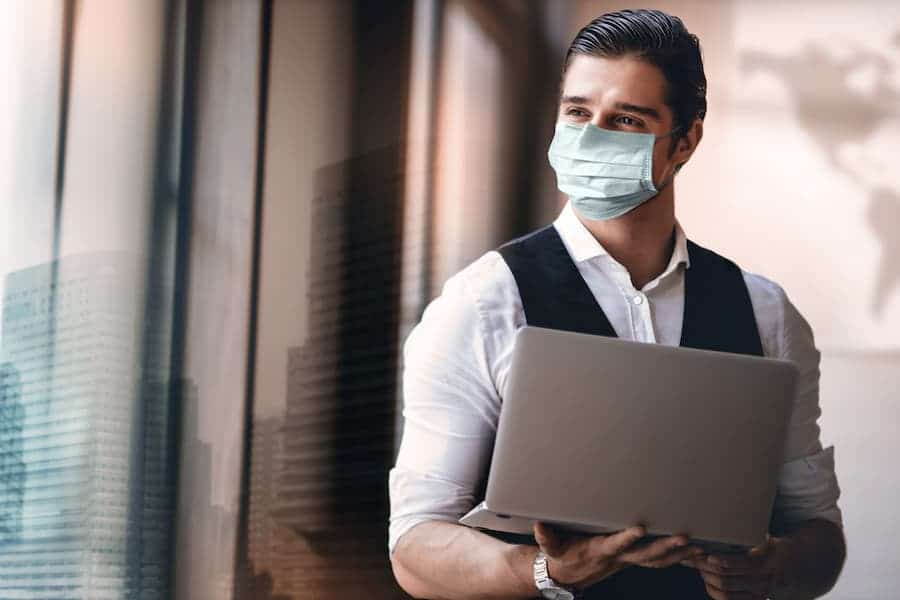 To get a full view of what's happening in the world and how that affects leadership training programs, I want to close things off by tackling the current global crisis.
Look, it's not a pretty affair.
I know I'd do without.
But that's where a leader separates themselves from a subordinate. They don't just do things because they're told to, they do them because they have a foundational belief in them.
Teaching leaders how to navigate the current situation is crucial to their short- and long-term success which means you need to embed some of it into your training program.
Designing Your Program Around Covid-19 & BLM
We're all aware of the impact that Covid-19 had on the global community. But here in the US, another great challenge is facing leaders of all backgrounds, and that is racial inequality.
The Black Lives Matter movement isn't just a temporary issue that will solve itself out of nowhere. It's something that results from a deep wound in American history.
Leaders must step up and educate themselves on the issue of racial inequality to include everyone in their decision-making process, not just a few privileged people.
Click To Tweet
It's time for all leaders to physically state that black lives matter and that their organization is taking the right steps towards implementing a more diverse workforce.
This is without exclusion.
There are no caveats.
I personally recommend that you include snippets dedicated to black people in leadership roles in your training program together with examples of their contribution to the business world.
This should not be the core of your program but it's important to remind those in power that racism is a serious issue and that business is not immune to its ramifications.
Considerations for the Short-Term
In the short-term, it's important to have a firm understanding of the BLM issue and include hints throughout the program leading back to why it's essential to be more inclusive.
You can do this naturally (lesson by lesson) and add pieces to the puzzle as you familiarize yourself with the company culture and your client's aptitude.
Here are some guidelines on how to address the topic:
Be decisive. Systemic racism isn't justifiable and leaders should be the first people to understand that everyone is to be treated equally irrespective of skin color or other distinctive traits. Make it clear that addressing the issue is the right thing to do.
Don't comment, educate. We have enough people commenting on the news and what they think about it. As a leadership coach or business consultant, you should always strive to educate first and provide personal insight later.
Take it one step at a time. Racial inequality is a sensitive topic that will require many years (if not decades) to be fully addressed. Use this opportunity to learn more about the topic yourself and provide information piece by piece only when relevant.
It's important to take a stand on this issue. You can't lead in 2020 (and beyond) if you're not aware of the systemic injustice leaning heavily against people of color.
It's also important to keep the ball rolling. Apple recently released a statement fully addressing the issue of racism in this country and what they're going to do about it. 
This is the right way to address the topic and it stands as an example of a huge company that decided it's time for things to change.
The same applies to every other organization.
Long-Term Aspects & Planning
When you look farther into the future, things become a bit fuzzy. While addressing racism is something that must be done now, tackling Covid-19 isn't as immediate.
Why?

Because there are too many variables:
Is there going to be a second wave in September?
Are people ready to go back to the office?
Will this be over by the end of the year?
Can organizations make it financially?
Is a vaccine in the works?
… and so on.
There's been a lot of talk around crisis management in the last few months, and that can help with certain parts of your training program. But it's never as easy as 1-2-3.
Organizations are all different.
The way they are structured matters.
I personally recommend that you take time to learn about the challenges the company is facing during the crisis and enhance your program iteratively with your findings.
This is a key value of agile development and it's much easier to implement compared to a full Covid-19 plan that will never see the light of day due to unexpected changes.
[emailoctopus form_id=1]
Embarking Leadership on a Journey of Continuous Learning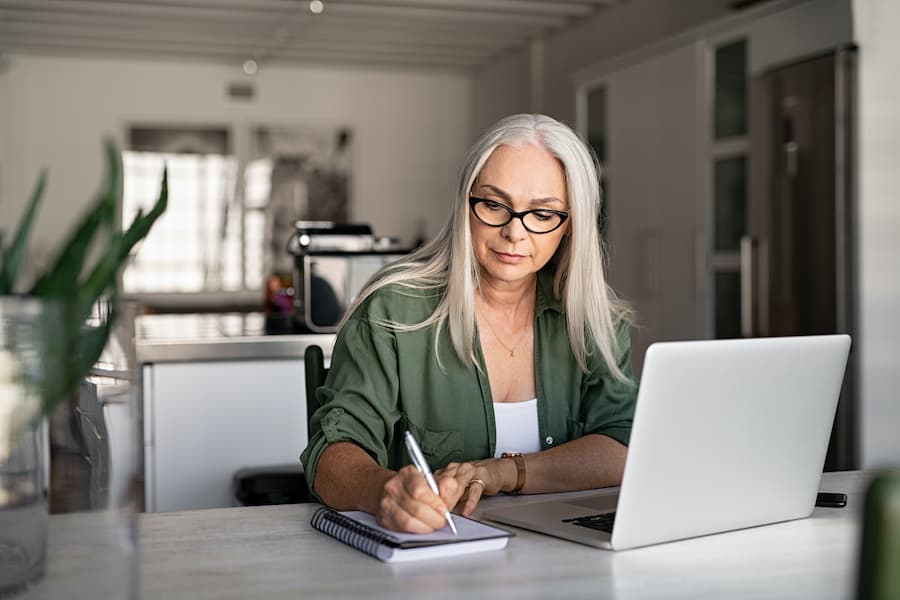 In a time of deep worry, continuous education will prove the biggest weapon in a leader's arsenal. Embarking them on this journey will have a great impact on their success.
Going from topics as broad as change and crisis management to immediate action pieces such as addressing racial inequality, leadership has a lot to learn from.
With time being a precious resource, helping leaders educate themselves and find interest in key topics at a pace that works for them is the key to their growth.
Your role as a leadership coach will be a huge part of this.
But before you dive deep, remember to ask yourself:
"What is most relevant to leaders right now?"
Originally published Jun 25 2020
---
Don't forget to share this post!
---
Industry thought leader, author, and dynamic public speaker. Pioneer in the application of business and technology trends to learning programs.