Training employees to become long-term allies and leaders for their organizations is a practice that even the best companies have a hard time dealing with.
It's not easy to figure out the right training and development approach, especially when dealing with employees who are varied in background, culture, and skills.
Modern training programs are built around the idea that employees can learn at their own pace through platforms known as LMS (Learning Management Systems).
This is an efficient way to handle training but there are a few fallacies in putting all the value on digital tools, mainly related to what is known as company culture.
Training programs should include e-learning as part of the experience but be complemented by in-person and one-on-one learning activities.
Click To Tweet
If you, as a trainer, want to provide the best learning experience for employees, you have to pair on-demand content with some sort of coaching or Q&A environment.
It's one thing to learn at your own pace and it's another to be left wondering what the purpose of consuming hours of content really is if nobody's checking up on you.
Training programs should include e-learning as part of the experience but be complemented by in-person and one-on-one learning activities.
In this article, I'll take you through nine best practices which can help you deliver the best possible training and boost your corporate development career forward.
Why Best Practices Matter in Corporate Training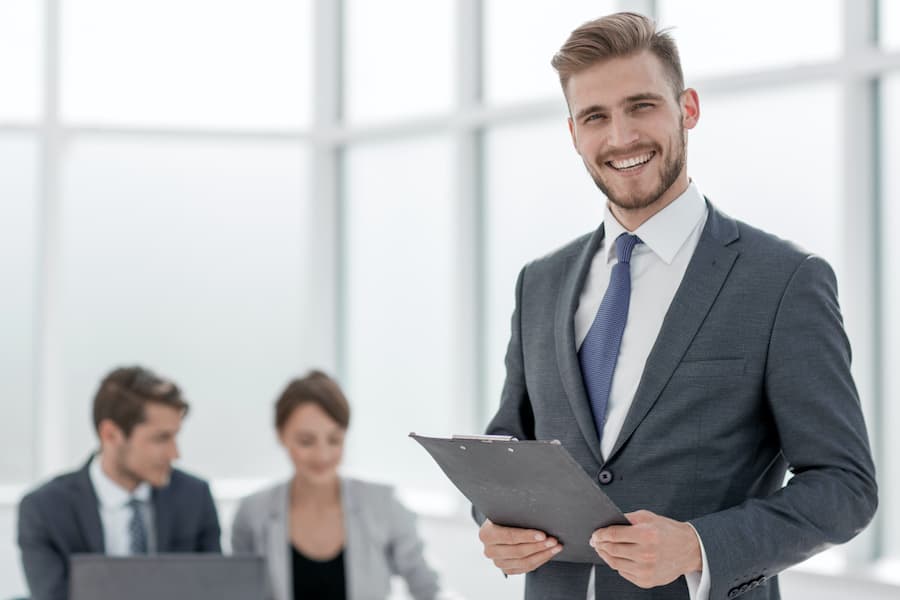 You thought about it, I thought about it… "Why not just wing it? I know all the basic principles so I can just deliver the training session on the spot, right?"
Wrong.
No matter how good you are in a specific area, you always have to put yourself in someone else's shoes, especially in a professional environment.
The reason why best practices exist both in training and other departments is to ensure that everyone is on the same page, no matter their differences.
Moving on to the training session with a half-baked slide deck prepared the day before is definitely not enough to satisfy the expectations of today's working professionals.
Understanding the Needs of Modern Professionals
Before I talk about best practices, you need to put yourself in the shoes of your target audience. Who are they? And what do they hope to achieve with this training?
This is the first step to delivering a relevant experience for your trainees, and it's one that they'll thank you for when done appropriately.
There are three things you need to keep in mind:
Training employees is like marketing to an audience. If you don't understand who you're talking to, your training program will fail, no matter how good you are.
Employees will be different from one another. You will never find a group of people who are exactly the same so consider their differences in your program.
Working professionals have a short attention span. Don't waste their time talking about stuff they don't care about. Be relevant to them by first understanding them.
If you have some experience with marketing, you know that this exercise translates into creating a slide deck with all the key characteristics of your target audience.
This is no different in training and development. You're doing the exact same thing but in reverse. Instead of targeting customers, you are targeting employees.
Here's an example: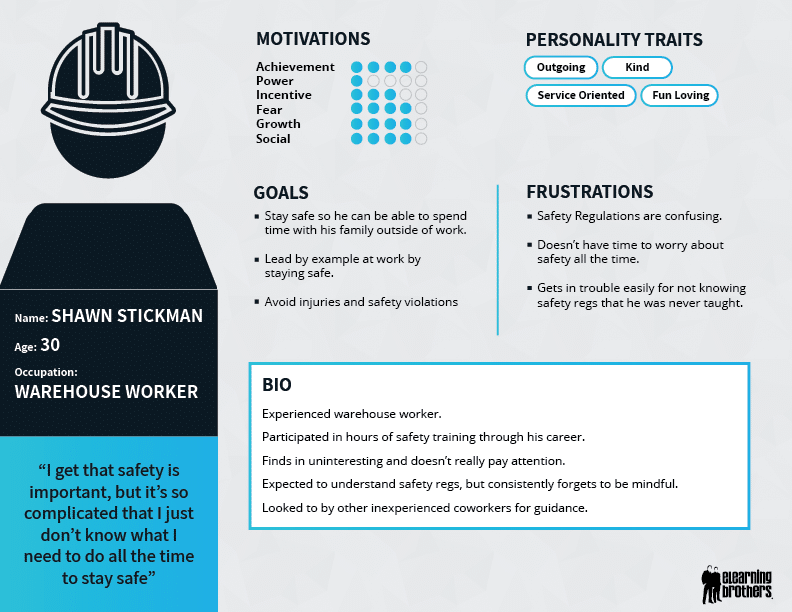 I highly recommend that you get your learner persona ready before you even start thinking about developing your training program.
It's a great tool to have at your disposal.
The eLearning Brothers have a great blog post talking about this. I suggest that you look into it, prepare the learner persona, and only then move on to the agenda.
[emailoctopus form_id=1]
Taking Ownership of the Program's Agenda
Once you've completed your learner persona and you know who you're talking to, it's time to think about the agenda of your training program. This is where the fun begins.
Creating and developing a training program is an ever-evolving process. You shouldn't take it as a one-time job but rather as a continuous representation of your work.
Taking ownership of the agenda means using your understanding of a subject and putting it against both the needs of your learner and those of the organization.
A great training program requires you to:
Think about results first. If you can't demonstrate that the work you've done is helpful to the organization in the long-term, you haven't achieved anything at all. This is the harsh truth of corporate training but it is one you should face from the get go.
Create the right environment for learning. It's important that learners feel like they are welcome in this new environment where they have to change their behavior. Most people resist change so you should build the program around bite-sized learning.
Make the best of each interaction. You're not here to waste time, you're here to drive the point home as fast as possible (which in most business environments is always related to growth). Learners will thank you for delivering without any filler content.
Use real-life examples. While theory is appreciated, most working professionals will want to apply what they've learned to their workflow immediately. If your teaching doesn't fit with their flow and they can't visualize a use case, it's not very effective.
These are some of the basic requirements for a training program to meet the expectations of a modern employee and help shape the success of their company.
Your growth as a training professional depends on the value that employees deliver to the company based on what they've learned during your sessions.
Measuring success and return on investment in training and development is one of the topics that are most feared so I've prepared a separate blog post on it.
Check it out!
9 Best Practices For Results-Driven Training Programs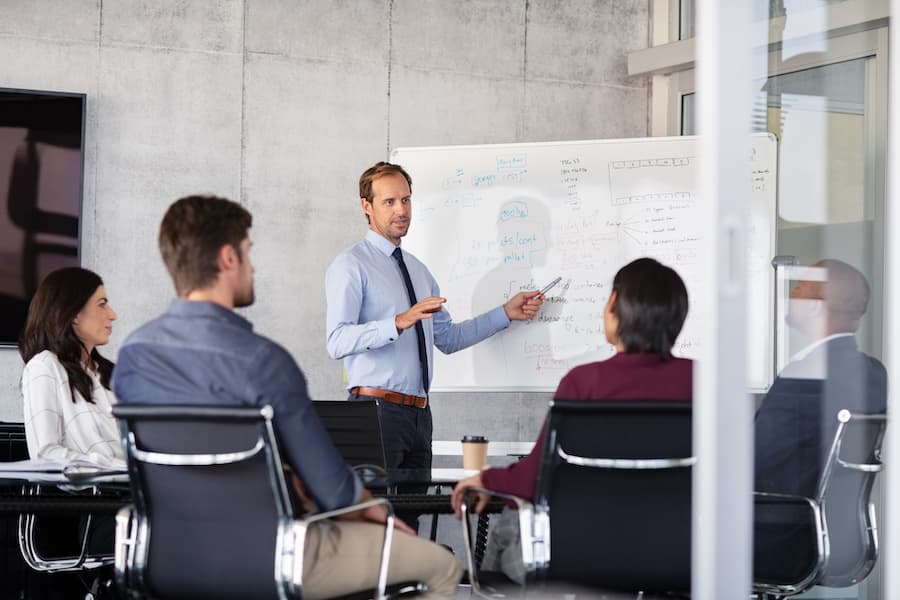 As a training professional, it's important to focus on long-term impact for both your company's culture as well as its financial growth.
Both are crucial for a successful training career.
The best practices illustrated below are meant to enhance this understanding of a "results-driven" program that uses business metrics as key performance indicators.
Best Practice 1: Start From The Business Goals (or Organizational Goals in Case of Non-Profits)
If you're working in a business environment, your work will be closely related to growth. And while it may not be your job to count money, it is your responsibility to demonstrate training ROI, and that's done by looking into business metrics first.
There are three tools that can help you set up your KPIs:
Use a training ROI calculator (easy): This can help you roughly estimate the KPIs behind your training sessions and how they are going to affect business performance. It's the simplest tool out of all three but it can help you get started quickly.
Create an impact study (medium): This is a more detailed view into why your training program has delivered what was promised. To get this done, you need the company to be super transparent about their current marketing, sales, and service metrics.
Implement the Phillips methodology (hard): Based on Kirkpatrick's classic Four Levels of Training Evaluation, the Phillips methodology expands on his work by adding a fifth dimension that helps companies translate training into real-world value.
It's crucial that you don't skip this part when you first create your training program. Be it at the very beginning or after you've gathered some feedback from your prospective learners, it's crucial that you set some KPIs to lean on and help drive business growth.
Best Practice 2: Gather Feedback from Learners Prior To Delivering The First Version of Your Program
A training program becomes relevant only when you fully understand the people you are targeting with it. Gathering feedback from your prospective students is a great way to not only prepare the right learner persona but also create the right content.
How to gather this feedback?
Manually, for the most part.
When you first start out your training program, you have zero data to work with. So how can you possibly gather feedback when nobody is consuming your content? By reaching out to people individually in a highly personalized manner.
Right, no automation or fancy LMS.
It's important that you start with this step to build a relationship with your audience and truly understand what they'd like to see from your training program. This will shine light on common requests which would have been impossible to think of on your own.
Best Practice 3: Develop a Modular Content Framework for Your Program & Implement a Feedback Loop
Once you've implemented an ROI system and gathered enough feedback, it's time to start developing your training program.
Based on the budget, requirements, and audience, every training program will be different but there are a few pillars that remain the same:
Make your program modular. This means creating a basic framework that includes all the essentials in separate documents to be rearranged for different curriculums.
Visuals, visuals, and more visuals. Every asset that you create has to include some sort of visual, real-world representation of the concepts you're teaching.
Be personable in your delivery. It's no secret that students get bored quickly and tend to lose focus… By being personable, you're talking directly to their needs.
Don't forget about feedback. Always ask open questions at the end of each interaction and use active language to help students feel excited about the subject.
By building a framework with multiple assets to be rearranged based on your target audience, you're building a long-term solution that tackles their evolving learning needs. With Q&A sessions integrated, you will start noticing similar patterns.
Best Practice 4: Deliver Your Training Based on Your Current Understanding of Business & Learner Needs
You have a basic framework to work with, backed up by a strong ROI evaluation tool. Now is the time to start delivering content to your students.
This is the core of your training program and will result in the most value being generated for both employees and the company.
All the setup is required to get this part done right.
And there's only one rule to this…
Practice!
You have all your assets in place so now you need to get up and recite all the key points just as you would during class.
By doing this, you will feel the delivery, and it will help you discover potential fallacies that can be fixed in a final review process.
Once you're ready to go, it's time to head to the classroom.
Be it an online or in-person event, you always want to start with a short introduction on who you are and what you're going to teach, followed by a quick headcount (or breakout session when done online).
Best Practice 5: Gather Further Insight & Incentivize Learners To Continue Their Education On Their Own
All of this work wasn't for nothing.
You've made it to the classroom and delivered your content based on the overall business goals of the company and the needs of the students.
However, it's not time to celebrate just yet…
There's more to this than just delivering your course.
Giving students a lot of content to interact with in-person is great but what about when they won't have you around all the time? Your students need some homework!
And this is where your LMS strategy comes in…
A few statistics here (source: eLearning Industry):
The global e-learning market will reach $31B by the end of 2020
30% of L&D professionals aim to incorporate some sort of digital incentive
90% of students prefer e-learning over physical classroom training
49% of respondents have taken at least one online course in the last few years
Whether you're skeptical about it or not, the LMS game is here to stay. And it is an important part of your overall training journey.
Pairing one-on-one sessions or classroom time with an LMS that delivers modular content in a logical order is an amazing addition to your program.
Students will be more engaged even when you won't teach directly…
They will provide feedback directly through the platform to be reviewed at any time, and they can complete tasks at their own pace, with next steps clearly highlighted.
Best Practice 6: Embed Gamification & Positive Reinforcement Within The E-Learning Experience
Adult students tend to resist change so increasing engagement is a huge part of your overall training strategy. Overlooking this key component is going to thwart all your previous efforts due to lost interest and slow learning.
So, what can you do to tackle this well-known issue?
You should make learning fun and rewarding.
But how do you do that?
Most LMSs will have gamification and positive reinforcement features built into the system. For each module or lesson completed, you can help students have fun in the process by adding interactive experiences such as quizzes, questions, and so on.
Rewarding students comes in the form of either offering them a certificate of completion or offering fun, real-world examples as they progress through the modules. Students are also offered visual "treats" for increased engagement.
Best Practice 7: Monitor Applications & Encourage Slow Learners To Get Started with Personalized Outreach
No matter how good you are at following all the best practices and engagement techniques with your training program, there will always be some students who just can't seem to get started with their homework.
It's important that you focus on them at this stage.
By monitoring LMS applications as well as engagement metrics, you'll know exactly who's already started working on their own and who's a bit slacking.
You want to reach out to the latter in a friendly manner.
Something like this will do:
Hey [name], I've noticed that you haven't started your online modules yet. Are you having trouble with the platform? Let me know so I can help you get started.
If they don't reply to the first interaction, keep going.
You want all your students to engage in the curriculum as that will yield maximum return for the company while putting everyone on the same page. When somebody skips too many lessons, problems start to creep in.
Best Practice 8: Gather Program Results Through Your LMS & Present Your Findings To Stakeholders
You're finally there. Your students have completed the entire learning cycle and they now have the required skills to bring change to the organization.
Now it's time to group all the data together and present your findings to stakeholders. Aim to answer these questions:
Were students' expectations met?
Can students apply the concepts taught in practice?
What business metrics will be improved thanks to this training?
How long will it take for this to show return on investment?
What are the next steps?
If you're able to give an answer to all of these questions, everyone will be satisfied and you will be awarded with more training programs and higher stakes.
By delivering a continuous training experience to employees, you are effectively bringing a culture of lifelong learning into the company, driving growth from within.
Best Practice 9: Repeat The Cycle To Build Momentum
One down, plenty to go. When you reach the end of your training cycle, make sure you always follow up with your students:
Are they actually applying what they've learned?
Is this benefitting their workflow?
Do they feel the benefits or are they finding issues?
This type of feedback can help you not only refine your existing program for a next generation of students but also understand what the next steps are.
Repeating the cycle means looking at the business KPIs again and seeing where your training has brought the most impact.
Ask yourself these three questions:
Can we drive even more impact in this area?
If yes, how can I make the existing training even better?
If not, what are the next steps in the curriculum?
Thinking about your training programs this way will help you deliver consistent value to your organization and further boost your career as an educational consultant.
---
With these nine best practices in mind, your training program is one step closer to helping both learners, managers, and the company at large in reaching their goals.
To learn more about the impact of e-learning in training, check out the content development track on how to develop programs that are fast, good, and cheap.
BONUS: Training Best Practices During Covid-19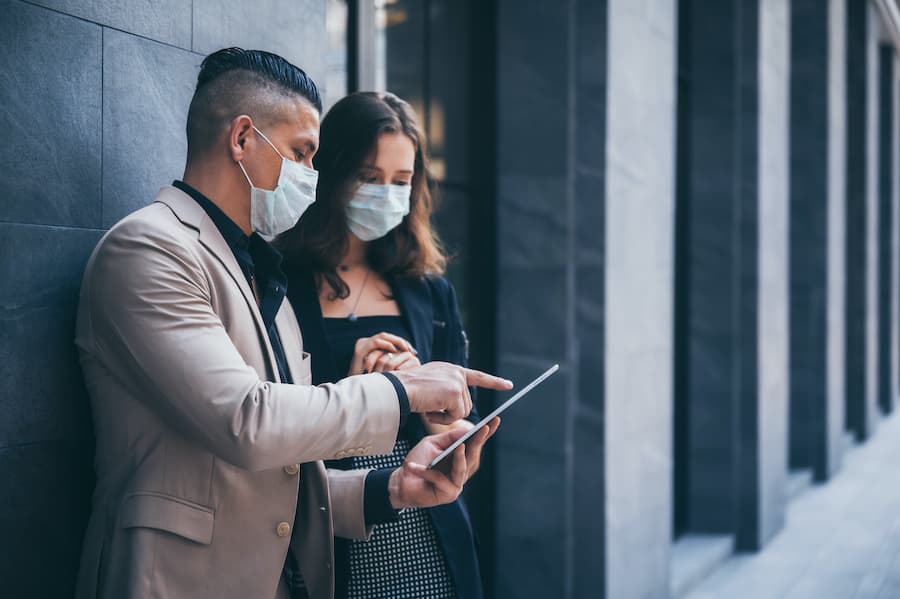 Covid-19 has dramatically changed the way we do things. The crisis is still ongoing so it's important to talk about a few best practices for training in this difficult time.
There are two core aspects to this:
Leveraging The Power of Technology
Remaining Human & Personable
Since we're all separated from each other in some form, leveraging the power of technology has become a crucial part of every training professionals' lives.
Paired with personalized approach that doesn't sound the same for each student, you are well on your way to delivering great training even during the Covid pandemic.
1. Leveraging The Power of Technology
You've all heard about conferencing tool Zoom by now. But the power of technology goes far beyond remote video collaboration.
It literally brings all your data together.
Covid is a tragedy but it has accelerated the movement of data-driven training so you should leverage this period to implement e-learning best practices.
Some tools you might be interested in are:
LearnDash: a premium plugin for WordPress, this all-in-one solution gives you all the data you need to start engaging your students in interactive learning.
Teachable: more catered towards business use, this is a proprietary platform offering one of the most attractive ways to create and share your courses.
Coursera: one of the best free platforms to use when sharing content for enterprise use as it can be locked for specific people and made private.
If you haven't had the chance to play around with an LMS yet, I highly recommend that you go through the quick 40-min course from Aaron Quigley on LinkedIn Learning. It will give you the fundamental knowledge to use one effectively in your program.
2. Remaining Human & Personable
With all this technology built around us, it becomes hard to remain human and personable in a learning environment. This is where your LMS skills with LMS will shine.
Thanks to the data offered from these platforms, you can review the progress of your students on a weekly basis and send out personalized messages.
In a time when most employees feel left out from their company culture, sending out small congratulation or encouragement messages will mean everything.
Plus, it only takes a few hours out of your weekly schedule while granting you incredible results. Employees who feel noticed get through training much faster!
[emailoctopus form_id=1]
Delivering Results Through Real-World Training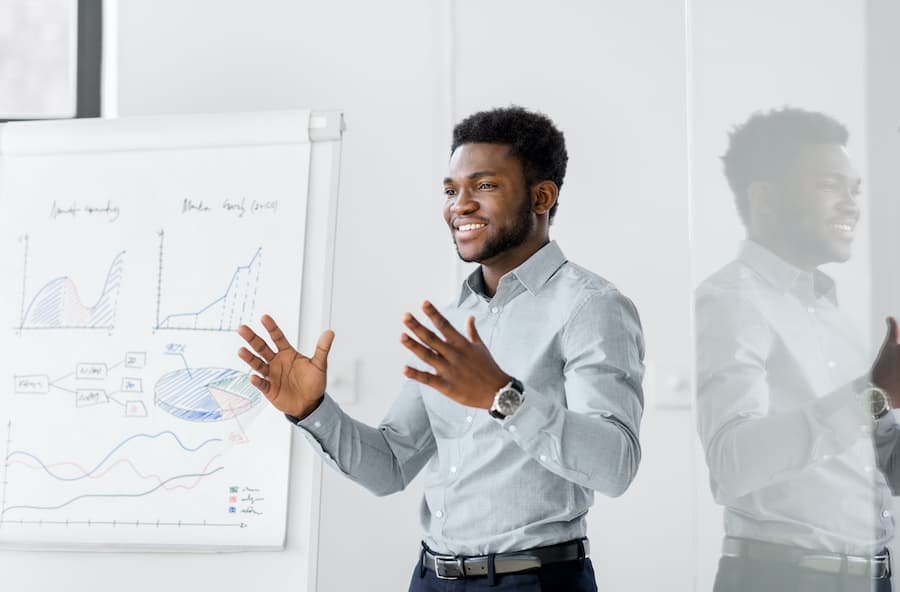 When your training is deeply integrated with business results, everyone becomes happier: your boss, your students, and—most importantly—you.
By showing that your work delivers real value to your organization, you will be awarded more ambitious projects and you'll earn the trust of the people at the top.
Always think about your training program as a representation of the real world, not as a bubble enclosed in itself. This will help you make your goals a reality.
Originally published Jul 28 2020
---
Don't forget to share this post!
---
Frequently Asked Questions
What are the requirements of a good training program?
A good training program requires you to think about business or organization goals before you start developing your educational content. What is your content meant to achieve? And how are employees going to benefit from it?
Which best practices should I follow for corporate training?
There are nine best practices you should follow: 1) start from the KPIs; 2) gather initial feedback; 3) develop the first iteration; 4) deliver your core training; 5) assign some "homework"; 6) use digital tools; 7) monitor engagement; 8) present your findings, and; 9) think about next steps. You can learn more about these in our blog post.
What are some training strategies I can use?
Depending on the target audience, you can use various training strategies: one-on-one sessions, classroom training, e-learning, video coaching, group sessions, and more. I suggest you look into mixing different strategies together for maximum value.
Are LMSs good training tools?
Definitely, when used appropriately. It's important to pair LMSs with some sort of personalized outreach if you want to fully engage your students. This is done particularly well with a half one-on-one coaching, half online self-serve approach.
Industry thought leader, author, and dynamic public speaker. Pioneer in the application of business and technology trends to learning programs.